"Community expectations of animal welfare continue to evolve at a rapid rate - particularly with regards to racing animals."
Our industry needs to be aware of these expectations, be able to respond to concerns and questions of ethical practices and to moderate where required to balance community and industry expectations. The social licence for harness racing to operate is hard fought among the changing expectations of the wider community - and needs to be protected. Questions of sustainability, ethics, integrity and transparency need honest and ongoing assessment, while the provision of information is critical to educate and provide confidence for all sectors of society.
Without doubt the highest profile issue relates to the use of the whip in racing pursuits.
HRA (through its members) made a proactive decision to moderate the use of the whip during races in 2010 by implementing a rule which effectively reduced the driver whip action to a wrist and elbow flick. Other aspects to this moderation was that drivers must hold a rein in each hand at all times, except for the last 200m of the race.
This new rule also attempted to define the term 'excessive whip use' in order to provide industry participants with some direction and examples/circumstances in which they would be deemed to be in breach of the rule (previously it was a generic open ended phrase).
While many drivers found the change initially difficult, over time the use of the whip has improved markedly without impacting on horse or driver performance - indeed race times have actually become faster in the period since the whip changes were introduced.
However, as community expectations continued to change, HRA members again reviewed a number of equine welfare regulatory controls and agreed the time had come to further moderate the whip rule, with a modification in 2016 further tightening the 2010 rules and providing improved clarity for drivers as to their obligations whilst using the whip.
It has long been acknowleged that there will come a point where use of the whip as an urging tool is banned altogether and HRA continues to be at the forefront of this change. In October 2016 the members of HRA, being the six state controlling bodies and the major racing club in each state, unanimously voted to remove the whip as an úrging' tool from all harness races in Australia. The initial timeline for this change was slated to be September 2017 however this date has since been revised in order to allow more time for the industry to prepare and consult to ensure that such a major change does not negatively impact the industry. Instead a further modification to the current whip rules has been instilled from 1 September 2018, limiting whip use to a forward flicking motion only in an action which does not engage the shoulder.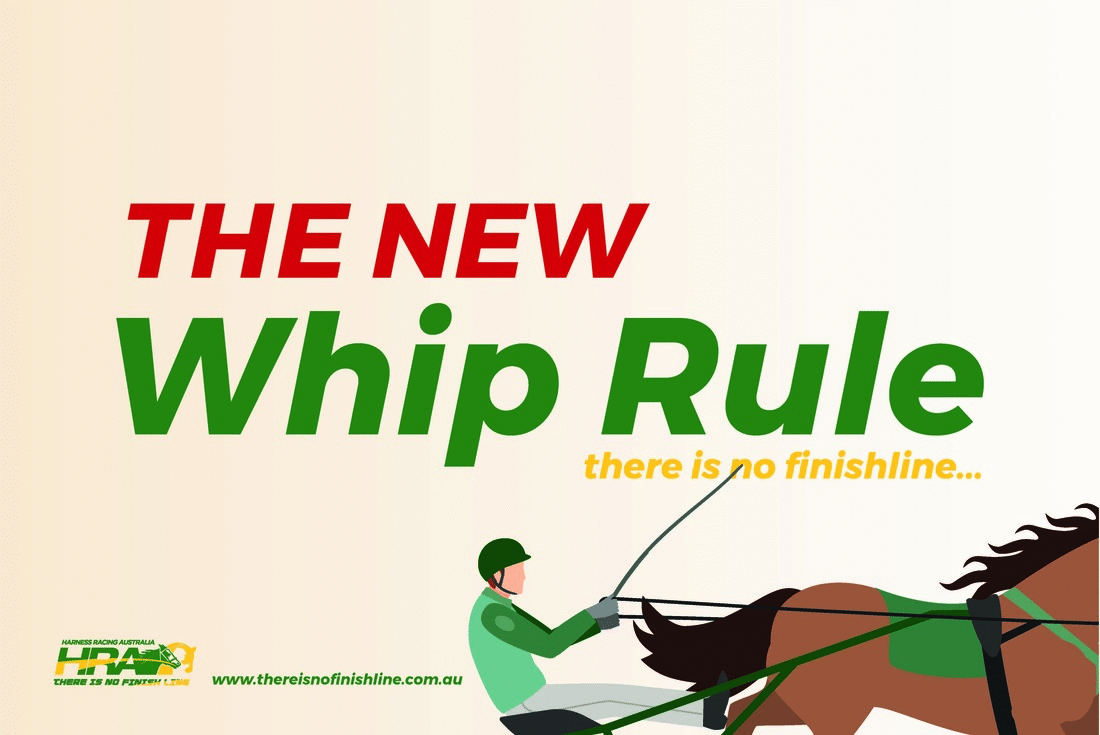 This latest modification makes Australian harness racing amongst the strictest in the world for whip use rules however it is interesting to note a recent study which has shown that despite the use of the whip being increasingly moderated race times have actually improved markedly within this same period of time.
Currently Norway is the only country that operates whip free however there are a number of European countries who continue to strongly moderate whip usage in the face of increasing government pressure.